Have a Spick and Span house in no time with these Spring Cleaning tips
Which words do you associate with spring cleaning? Stress and Hard work?  Dread-filled ordeal?  Corporal Punishment???!! or just 'Err… Yuck'!
Well, here we are to re-program your beliefs about spring cleaning the house by showing you how easy it can be to transform your home into the spotless abode you desire in just a few simple steps.
The main idea is to 'work smart' and not necessarily as hard you may think… Let's find out how.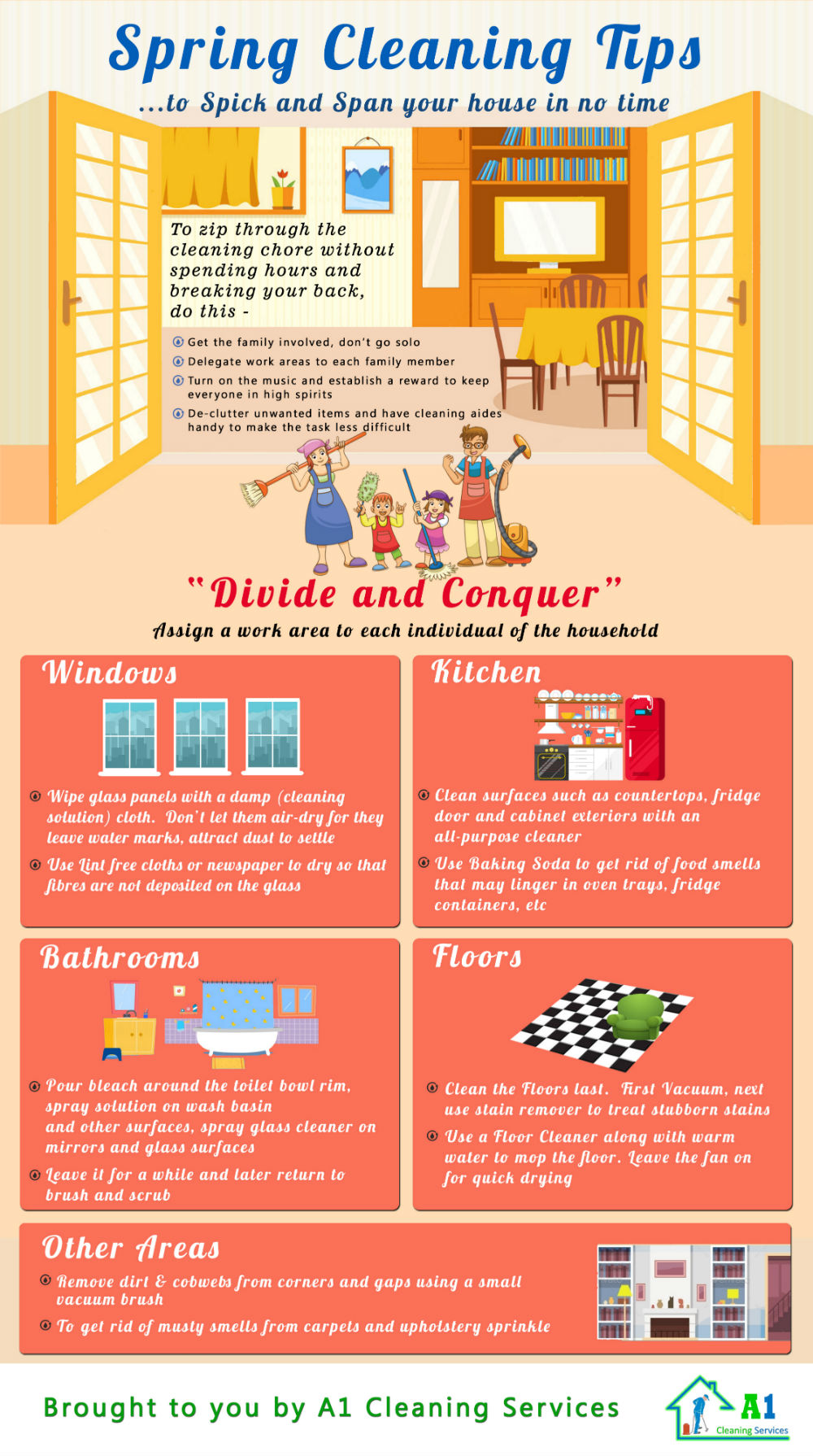 Plan and Prepare for the Spring Cleaning
1.      Get the family involved: don't go solo
The worse part about spring cleaning is the thought of taking the monumental responsibility onto oneself. This will not only drain but also demotivate you even before you begin.  The right way to handle the task is by getting the family involved and making it a group responsibility.  In this way, maintaining the cleanliness and clutter-free level will be easier apart from the actual clearing and cleaning process being less stressful and quicker for all.
2.      Delegate work areas to each family member
The best way to share the work load and not get into each other's way is by assigning a specific work area to each family member.  Delegate a room such as the kitchen, living room etc., home components such as all the windows, shelves etc. or then processes like scrubbing, vacuuming and others depending on which works best.
3.      Turn on the music and establish a reward to keep everyone in high spirits
Set the mood for a productive family day ahead by playing some peppy tunes in the background.  Sing along as you throw, store, scrub, scour, wash and wipe together. Have a sense of humour about it!  Don't take the job too seriously but be assertive enough to set high cleanliness standards: no hoarding!   A good way to make sure the kids cover their work areas well, is by offering motivational awards to those who do a good job.  Everyone learns, bonds and enjoys themselves while the house gets a good make over.
4.      De-clutter unwanted items and have cleaning aides handy
Prior to actual Cleaning Day, plan the actual spring cleaning or de-cluttering session.   Getting unwanted items out of the way will make the cleansing process ten times easier.   You can donate discarded clothes, toys and even furniture to the Salvation Army and other donation drives.  Then stock up on the correct cleaning equipment – brushes, mops, sponges, squeegees, brooms, buckets, vacuum cleaners, spray bottles and the right liquids and detergents.  The right tools are essential for convenience and ease of creating a spick and span space.
Execute with Divide and Conquer – Allocate one area to each member
Here are some practical tips for quick one off cleaning of every area of the house –
Windows
The all-important job of window cleaning requires some elbow grease and non-fibrous material or newspaper to wipe down the glass panes.   Dab on some cleaning solution and wipe till there are no marks to be seen.   Washing with water and leaving to dry naturally will only attract dust particles or worse, create water streaks that can end up ruining an otherwise good job done.  Remember, spotless windows are the key to spick and span.
Kitchen
Kitchens gather a whole lot of grease and dirt on all surfaces like cabinet doors, counter tops, tables and tops of shelves and refrigerators.  Wipe all these down with a heavy duty all-purpose cleaner and sponge.  A handy tip for stubborn stains or odours is the use of bicarbonate soda.
Leave a layer on the required surface overnight or in a bowl inside a smelly drain, cabinet or the fridge.  The soda will absorb all the odour, freshening up your kitchen like a true day in spring.
Bathrooms
Those assigned bathrooms to clean may consider themselves to be unluckiest but the fact is that bathrooms can be handled quickly and effortlessly with a simple rotational trick.   If there's just one bathroom then even better! The trick here is to spray or apply solutions to mirror or glass surfaces, toilet bowls and sinks and let them get absorbed into the surfaces before you begin cleaning.  Pour bleach in a toilet bowl, some antibacterial detergent in the sink and other surfaces and a glass cleaner on all mirror and glass.   Then move onto the next bathroom and repeat the same there.  Give time for the solutions to do their job and then you do yours, wiping, brushing or mopping where necessary.
Floors
The floor cleaning occurs last.   Vacuum clean the carpet to clear all the dirt from deep inside.   Mop down all other surfaces floors with a cleaning solution and warm water.  Stubborn marks on the carpet can be handled with stain removers and only use suitable solutions for surfaces such as marble, wood or vinyl.
Other areas
Keep a small vacuum cleaner or brush application handy to get into the tight areas where dirt or cobwebs reside.  Also, apart from the kitchen, bicarbonate soda can also be sprinkled on couches, sofas, pillow covers, and blankets overnight and then washed or vacuum cleaned the following day to look and smell anew.
A spring cleaning is the best gift you can give yourself and your family. De-cluttering is known to clear the mind and infuse positivity into your life and thoughts. A regular spring cleaning, every 3 to 6 months, is a good detoxification plan for every home.