F & B operators in Singapore have to place a great deal of importance on food safety and kitchen sanitation. While food hygiene for visiting patrons is the top priority, adhering to standards laid out by food agencies such as NEA is no less important.
Hence Dishwashing, especially in restaurants and eateries is one task that cannot be overlooked nor undermined.
Depending on the size and scale, a restaurants' dishes may either be cleaned by hand or using an industrial dishwashing machine. Since a majority of restaurants here employ a manual dishwashing process let us talk how this task can accomplished in a efficient manner by practicing these simple and easy tips.
Establish the Dishwashing Process
There are three parts to hand-washing dishes: Wash, Rinse, and Sanitize. In order to accomplish all three, your facility must have a three-compartment dishwashing sink. This 3 sink basin dishwashing system is a well-known method in many restaurants and bars. It's a way to ensure that dishes are properly cleaned, sanitized, and ready to re-use.
The 3 stages can be elaborated further by including the essential pre- and post-steps, as explained below –
Pre Wash to scrape-off and remove food leftovers
Washing with hot and soapy water
Rinse the dishes to ensure detergent is washed off
Sanitize to ensure bacteria are removed from the surface
Drying preferably air-dry rather than wipe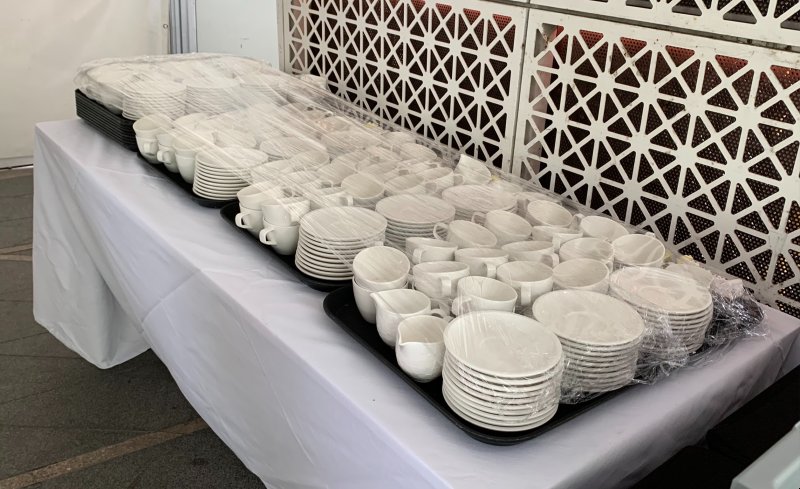 Define Dishwasher's Responsibilities
A dishwasher like any other human resource in an organization should have roles and responsibilities defined. Here are some of the key responsibilities that should be expected of them –
Be punctual and on time – Dirty dishes attract pests, insects and pose contamination risks. Hence dishwashing must be done ASAP
Handphone ban while working – Distractions in the kitchen can have disastrous consequences. Full attention is required in a kitchen full of hot pots and pans, knives, glassware, and other potential hazards
Keeping the kitchen and washing Area clean – they are expected to clean the kitchen at the end of their shift
Be hygienic & fit – All F & B workers must obey the laws of food health and hygiene. Be taking care of personal hygiene is key
Last but not least work with a positive attitude
Set the Work Environment
Dishwashing is a demanding job that requires standing for a long period; lifting/handling plates, fragile glassware, knives, and heavy utensils; working close to other members of the kitchen staff. This means work space, protective gear and functional tools should be made available for better work productivity.
In Singapore, restaurants are often open throughout the day, including holidays and weekends, and a dishwasher must work these hours to meet customer demand. The work can be fast-paced during busy periods.
So, to ensure dishwashing is timely and enough clean dishes are available, restaurant owners must setup an optimal environment for the workers.
Offer Benefits and Proper Wage
A dishwasher is a silent hero of every food establishment, and a restaurant without them is unimaginable. The backend work of dish and utensil cleaning is quite demanding and can also dent the establishment's repute. So, its paramount that the worker is paid on time, as per industry guidelines and be provided career advancement opportunities.
In Singapore, dishwashers are expected to be onwards to $10 per hour and for full time staff salaries can range from $1600 onwards plus benefits depending on the hours and job role.
If you read so far, then you are probably a concerned F & B business owner :). Hope these best practices will help you streamline your process. To outsource your dishwashing to professional dishwashers on contract or part time basis, call our friendly customer service staff at A1. We are at your service!