Recently, I moved out of my old apartment at Bedok to a new flat at Queenstown. With the convenience of an MRT station and a library available nearby, I decided to take up the offer of this new flat.  However, I faced quite a few challenges moving out (only to be solved later) which made the whole process tedious and tiring
So, to ensure that you don't have to go thru the same pains and have a better moving out experience than I did, let me unravel some essential yet overlooked ways to move out clean.
Why is Move Out Cleaning needed?
To be honest, I had assumed that we would not have much to clean up after we moved out all the furniture, belongings and barang-barang. Oh boy I was wrong!
Firstly, cleaning up your HDB or Condo unit before moving out leaves a good impression on the new tenant/buyer of your house. It also ends your living experience there on a good note. Some houses, like my condominium unit in East Coast, may even have contractual obligations to return the house in its original condition in order to claim back the rental deposit paid.
So, to make your shifting experience a more pleasant one you may want to engage a cleaning service to lend you a hand or do the task the DIY way.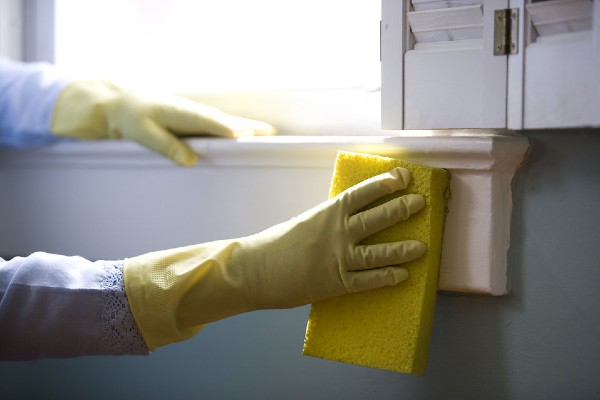 How to do it the Quick and Easy Way
The biggest mistake I made was not planning my apartment move out properly. Make sure you have a proper plan and measures in place to make moving a breeze. For example, if you had laid wall to wall carpets, you have to plan the removal yourself or get a professional to do it.
Thus, you need to work out the nitty gritty details beforehand so on the day itself, you are all ready to go. Based on my recent experience and subsequent research, I have come out with a quick and easy way to make your moving out experience go smoothly. Here are a few tips that'll really make the difference –
Make a Checklist
When I was moving out, I didn't make a checklist. I kept bouncing from room to room because I didn't keep track of the things I had cleaned. It got so chaotic that I almost forgot to unplug the fridge!
Making a checklist ensures that all the rooms in the house are cleaned and in proper condition. It also relieves you of stress and worry that something is not done. A sample of a checklist for reference can be found here
Pre-clean Before the Day of Move Out
Pre-cleaning really helps when moving out. Cleaning the whole house thoroughly in a day is close to impossible. Therefore, you should start cleaning at least a week prior to your move. I began cleaning 5 days before my moving out.
During my daily cleaning routines, I had cleaned deeper than I normally did. For example, I thoroughly scrubbed the walls and windows clean so that on the day when the movers come in, I would only have to vacuum the floor and clean the surfaces.
Get Rid of the Unwanted Things & Pack earlier
Another thing you can start doing in advance is packing. Go through your things, get rid of unnecessary items and start packing what's left into boxes. I did not have enough boxes to fit all my belongings, so letting go and throwing away some of my things helped.
This also ensures that you have just what you need for your move to your new house and lessens congestion. In the event you are short of boxes let the Movers know beforehand. I did not know till too late that some Singapore Movers do provide boxes for your move!
Divide the Work Among your Family
We know many hands make light work. The more people you have, the faster you can complete your migration. Being in a family of five, we all held responsibilities for our own rooms. So, while I did the kitchen and living room, my husband took the master room and the kids took care of their own rooms.
This way, we all had our own spaces to clean and pack. This tactic improved our work efficiency and made the moving out process much efficient and less of a burden.
Inform the Landlord of any Pre-existing Conditions
A painful lesson was paying for someone else's mistake! Yes, our kitchen wall had holes drilled that were done by the previous tenant. I had simply ignored them all the while.
When our landlord came to check the house at handover time, he found the holes in the wall and told us we must patch it. I was shocked and tried explaining him that they pre-existed even before we moved in. To my dismay, the landlord told us that I should have reported this pre-existing condition. We ended up paying for the wall repairs even though it wasn't our doing in the first place.
So, if you find any pre-existing conditions or customization left behind by previous tenants in the unit, do have it on record. By informing the landlord beforehand, you'll save time and money for yourself.
Finally
Reflecting back, my move out experience could have been a lot more easier. As I sip coffee enjoying the view from our new apartment I realised some help with the cleaning up would have made everything faster and less painful. But it has made me wiser in the process and as they say… All's well that ends well!