Moving in to a new house? Congratulations! Many new exciting memories will be made in this new nest of yours….hope you have sorted out your packing and shifting.
But, did you know, moving into a new house is not just about bringing in your things and setting up your furniture? The main stress is in cleaning up the new house first and making sure everything is working and in order. Just like how you must have cleaned your previous house before moving out, you would do the same when moving in.
Let's take a quick look as to why Move In Cleaning is so crucial and how to go about doing it the effective way.
Why Move In Cleaning is Important
You may be wondering why Move In Cleaning is important assuming the previous owner might have cleaned up the space before they left. Well, sometimes the cleaning done is superficial and not all the nooks and crannies were looked into. Hence, a deep clean is often needed. Plus, this is the best time to clean the place up before all the heavy furniture comes in.
Cleaning the place up before your settle in also starts you off on a fresh note in your new house. What better way to show off your spanking clean house at the house warming party
Options for Move In Cleaning
If you are still scratching your head on how to move in the quick and easy way, here are a few ways to accomplish that.
Post renovation cleaning
If you are getting renovation works done for your new home, try to include cleaning as part of the renovation package. Renovations can cause disruption and leave fine dust everywhere. Thus, a thorough clean is necessary to avoid health and respiratory issues. Most renovation firms offer post renovation cleaning as an add-on service.
One-Time Deep Cleaning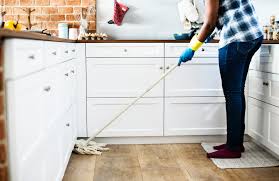 Engaging a cleaning company to carry out a one-time deep cleaning ensures every inch of your house is properly cleaned. Deep cleaning includes services such as chemical washes, mould removal and proper scrubbing of floors. This guarantees that your house is cleaned with appropriate tools and utmost professionalism.
You may want to hire professional cleaners skilled in deep cleaning on a one-time assignment.
Professional Part Time Cleaner
If your house does not require deep cleaning, hiring a professional part time cleaner is another route to consider. The part time cleaner can help with the basic cleaning of your house. Tasks such as vacuuming, mopping and dusting can be done by the cleaner, leaving you with the more important task of unpacking.
The DIY Way
Are you the type who likes doing things your way? Then roll up your sleeves and DIY the cleaning. This is possible if your new house does not require too much of deep or professional cleaning. It will not only save you money, but also makes you familiar with the new layout of the house.
Other Move In Tasks
Before getting all your furniture in and settling down, there are few more tasks that should not be ignored. According to this website, here are a few things that need to be checked on before you move in.
1.      Check for pests
If there are signs of pest infestation such as termites, bugs or ants, you should call pest control immediately. Do this before you or your belongings are brought in to the house, so that the infestation does not spread to other parts of the house in future.
2.      Inspect electrical installations
Have electrical inspections to make sure all switches and points work. Sometimes, the electricity may only start working a few days later. If your electrical appliances do not work, call the relevant authorities….it is better to ask sooner than later.
3.      Change of address
Lastly, do not forget to change your address. It is important to update your new address so that your mail is not delivered to your old residence.
Parting Words
Though changing homes can be quite stressful, help is always available. Having a reputed cleaning crew to take care of the mess will make your move easier. Keep the stress out and the happiness in. We hope this blog helps you in your moving journey.