In Singapore, an average household may spend up to 24% of their income on food and beverages (F&B). That's surely a good thing for the local F&B industry but with it comes a "happy" problem to solve – Dishwashing.
If you are in the F&B business here, what is the best way to deal with the challenge of dishwashing…directly hire workers inhouse to wash? send dishes and glassware offsite for washing? or outsource washing to a cleaning company who can provide manpower onsite?
Afterall, you need to ensure that customers' plates and utensils are spotless before serving them.
In this post, we'll discuss the dishwashing problem faced by Singapore F&B operators and suggest some options to address those. Let's go…
Cleaning Dishes, Cutlery, and Utensils – An Essential Component of F&B Business
Work in the F&B industry is very demanding. Back of house tasks like preparing, cooking, serving, washing, and cleaning are physically demanding chores. Some of these are often viewed as low-ranking and unskilled work. However, as lowly as it may sound it's actually one of the most important jobs at restaurants. Afterall, we expect to eat from clean dishes when we're eating at restaurants.
Cleaning and washing may be cumbersome or manageable depending on the volume and type of clientele the eatery caters to. For instance, high-end fine dining restaurants may serve limited number of customers and with lesser washing load, whereas smaller outlets in high-traffic areas may have customers every other minute which would generate a lot of dirty dishes.
Dishwashing Problems for Singapore F&B Players
Dine-in F&B activity has resumed and back to normal in the post covid era creating an on-going demand for manpower. In Singapore, this poses its set of problems…labour is expensive and not easy to find especially as Singaporeans shy away from taking up low-ranking and labour-intensive work. At the same time there are restrictions on importing foreign labour who can work as kitchen crew here. Rising costs also have forced F&B operators to reduce staff, do more with less resources, and automate wherever possible.
So real is the problem that according to a news report one restaurant owner had to fork out as much as $ 3,500 to recruit a dishwasher. On their part government agencies are promoting the use of automation and robots amongst F&B players to tackle this problem. For example, a monetary grant to devise solutions to automate the collection and pre-processing of crockery to facilitate downstream centralised dishwashing is one such initiative by the National Environment Agency here.
Given the current scenario, what are the options available to F&B establishments and restaurants in Singapore? Let's highlight a few of them in the next section.
Options for F&B Dishwashing in Singapore
Here are three ways to tackle this issue –
Hire part-time or full-time kitchen crew for dishwashing
This option is best suited if you have a small number of tables and/or a limited menu. You can either employ a part-time dishwasher or a full-time dishwasher. A part-timer will help you cover peak hours while a full-timer will take care of the whole day. The latter option is usually better because they tend to be cheaper than part-timers.
You may directly hire staff who are willing to work at your offered salary and hope they stay with your company. Or you can outsource and hire a cleaning company who provide trained cleaners on contract. This mitigates the risk of workers quitting or working half-heartedly for you.
Commercial Dishwashing Equipment
The next option is to invest or rent commercial dishwashing equipment which you can install and operate inhouse. There are a range of machines that you can purchase based on your requirements such as –
Front loading undercounter glasswashers and dishwashers with easy controls and removable components to loading/unloading
Door or hood type commercial dishwashers which are high temp machines that can wash dishes faster than the undercounter machine
Pass through dishwashers with conveyor systems for high volume, heavy duty washing operations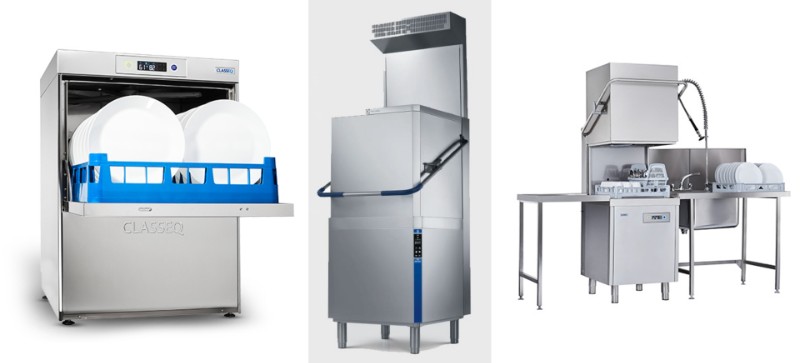 Offsite Dishwashing Services
If you don't want to hire staff or invest in commercial dishwashers at your premises due to limited space, then offsite dishwashing is the third option. Dishes are collected from your premises and transported to a central dishwashing facility, where they are cleaned by industrial dishwashing machines. After the cleaning is done, your dishes and wares are packed and transported back to you for use. There can be risk of breakage which can be a concern if your crockery is high-end and expensive.
Final Words
If you read till the end, congratulations!… we hope you have options to ponder over. Your choice would depend on your requirements and suitability to your operations. At A1 Facility Services we offer onsite services, wherein restaurants can ask our workers not only to wash but also clean the kitchen and tables during non-peak hours. Our workers will be constantly washing to ensure there will be always enough clean plates for your diners.