Pest Control for Offices & Commercial Establishments
As the owner of a commercial property or business, one of the key responsibilities would be to keep the premises safe, clean & inhabitable for people to work. Giving extra attention on appearance, cleanliness and sanitation of business premises is often a top priority. Hence, a pest problem can be a major cause for concern.
Fortunately, in Singapore it is not hard to find reliable Vector Control Operators that can give you peace of mind and ensure a productive work environment at your facility.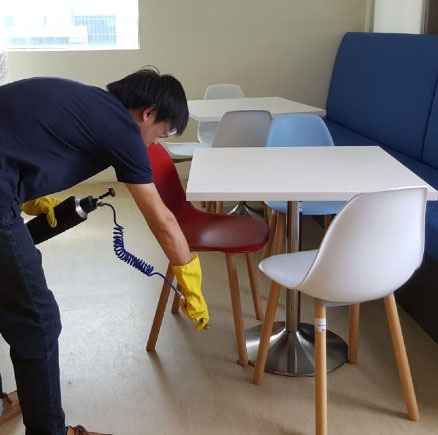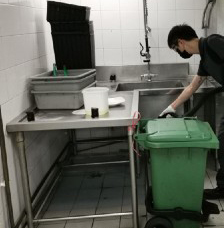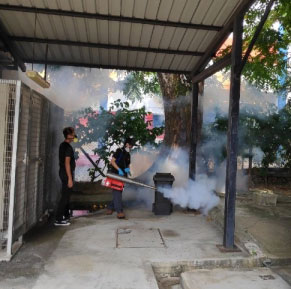 Pests as Workplace OSH (Occupational Safety & Health) Hazards
In any type of industry, be it an office, school or F&B establishment, pests can prove to be a health hazard. Due to shared common spaces a small infestation can quickly escalate into a large one. Not only do pests give off a bad impression to customers but are also a turn off for employees bringing loss in productivity. More importantly they be a health hazard if not controlled, especially with pests carrying diseases that infect humans. Rodents and termites can also cause disruption to the workflow. Rats have been known to chew on cables, damaging expensive equipment and can also be fire hazards!
Commercial pest control services provided by pest busters know how to deal with such situations.
Pest Control for Corporate Offices & Buildings
Pests are active year round and at one point of time your office premise or building is bound to be affected by them. Most facilities serve multiple businesses these days and experience high footfall. Commercial properties have shared walls, ceilings and common areas. Hence, pest sightings in common areas can cause disgust not only to employees and clients but even to potential tenants.
Working in a clean and safe environment is one of the basics that an employer should provide to his employees. This also includes a pest free area. Office staff may fall ill due to pests that carry diseases and this can affect business operations. Pests are responsible for structural damage to property as well as machinery and fittings.
For companies and front line establishments like retail that depend on walk in or human traffic, having pests crawling around will certainly affect the business.
Pest Management Strategies for Commercial Purposes
Designing a pest management strategy for your company according to your requirement is one step to better pest management. Vector control operators that offer 24 hours pest control services will ensure that disruptions during office hours are kept to a minimum.
Engaging and educating your staff in keeping the premises clean and rubbish free, keeping signs and allocating designated areas for eating are some ways to keeping pests at bay.
Pest Control for F & B Establishments
For food industry, cleanliness and health is the top priority. This means that the establishment must be pest and rodent free. In Singapore the NEA has very strict criteria when businesses apply for a F & B licence, one of which is to have pest control contract during the year-long licensing period. The inspection needs to be carried out at least once a month to detect any pest infestation. Look out for licensed Pest Control companies when searching for one.
Why pest control is critical for F&B
Being in the F & B industry, cleanliness and hygiene standards are of utmost importance. Any sightings of pests within or even near the premise may result in a loss of patrons! Pests like rodents and cockroaches transmit diseases which can eventually be passed on to food that is consumed. This can result in people falling ill or having food poisoning. There is a risk of getting fined and in severe cases, your licence may be revoked.
Perils of Pest Infestation
Pests are not just a turn off to customers patronizing eateries and restaurants. They are a health hazard to the staff as well. However the most dangerous types are the ones you can't see. Pests can burrow into food packaging, thus contaminating its contents. Their droppings, urine and saliva cause diseases. Rats are also known to gnaw on cables, which can damage expensive kitchen equipment.
Therefore pests are not only health hazards but also destroy property and reputation. Ensuring strict pest, specifically rodent control must hence be top priority.
Pest Management Strategies for F&B Operators
Following basic practices and good housekeeping can minimise the risk of infestation. Disposing of infested food products, regularly monitoring stored food for signs of pest infestation as well as proper sanitation and cleaning practices should be carried out.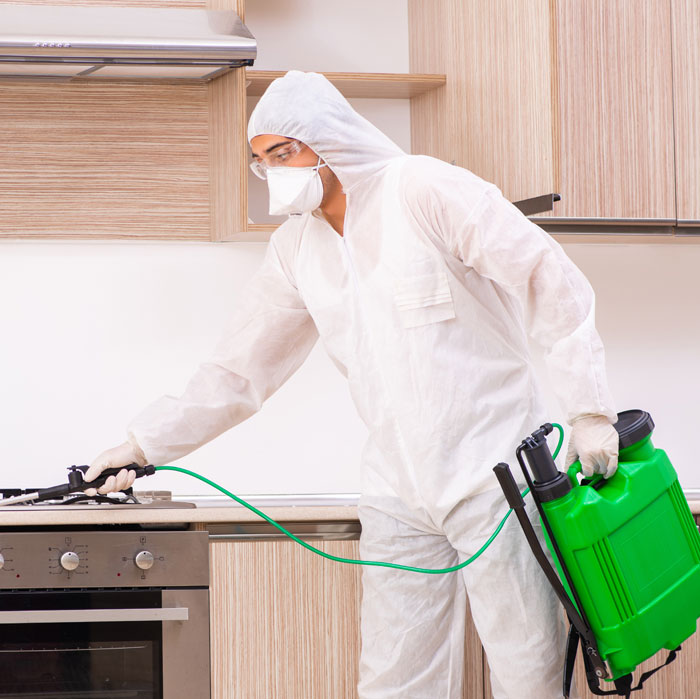 Use of Controlled Pesticides During Pest Control
The NEA has a list of registered products that can be used for certain types of pests. Pesticides and repellents to be used have to first be registered prior to being sold. Products are labelled as "For General Use" and "Restricted Use". Instructions are given on how to use these products effectively. With stringent checks we can be rest assured that products used by Pest Control companies are generally safe.
Being a licensed service provider providing cleaning and pest control services for many years, A1 Facility Services guarantees customer satisfaction. Our professional and friendly staff trained in Singapore are available for deployment to keep your commercial establishment pest free. Call us today for a quote.
Always happy use service from A1 Facility service,i highly recommended
Never dissapointed with A1 service since first time i use their service last year.
Great service always make my apartemen clean, never dissapointed after 1 year use A1 Service. Highly recommended 🙂
Great service highly recommended
When I first signed up with you, I was sceptical, and expected to have some "glitches", but I was surprised that everything just went on smoothly. I am really pleased with the excellent dishwashing work and appreciate the extra effort in making this turns out to be a great experience for us.
I have hired your competition in the past and never have they did an excellent dishwashing job like your company. I just found a company that can cater to my needs, requirements, and my budget. Superb.
We love our dishwashing crew! The team did another great job and were victorious once again over the dirt from the food stains. They even got the fridge to look white and even fix the plumbing. Something we find difficult to do. As always, I enjoy their cheerful personalities. They are a pleasure.
Pedro Chaniago
2022-08-08
I just wanted to call you and let you know I was really appreciating your dishwashing team today. We had somewhat of a "crappy" day, lots of new staffs coming in, poor management by the new operation manager. Thank you to your team for being so patient with us.
Thanks for the calibre of the workers and the quality of their dishwashing work. It is a tribute to the worker's character and to the quality commitment of management in hiring. Other than the quality of the work, their customer service is very responsive and professional. Needed extra back up next day, they solved my issue within a day.
Travis is professional and courteous, and bent over backwards to accommodate our schedule. He is prompt in returning phone calls even at wee hours, and the dishwashing team was always on time and efficient. To be honest, I feel bad calling him at late night due to the bar late operating hours, but he is so understanding. 5 stars service.
Life Is Short….Don't Stress, Let Us Clean Your Mess
Get quality time in clean surroundings, relieve the scrubbing & rubbing to us!