Canteen cleaning is a tedious task that requires lots of time and effort. However, as tedious as it may be cleaning the canteen is important because it helps prevent food poisoning and other health issues. At times a canteen also serves as a place to socialise for students, meetings for workers, and so on. Therefore, it has to be clean at all times just like any other office space or classroom.
There are several things that you can do to ensure that your canteen stays clean. Having a routine of cleaning tasks on regularly scheduled hours is ideal and, in this post, we will share nine routine tasks that must feature in your cleaning schedule. Ready? let's go…
Scope of Cleaning a Canteen
Keeping a canteen clean entails various chores and since food and health are involved hygiene standards are much higher. Besides cleaning and mopping, washing and disinfection are also part and parcel of the cleaning regime. The scope of work should encompass –
Public Facing Areas – Interiors, payment station, refreshment/dining areas, tray return stations/racks, handwash basin areas, and toilets
Back-of-House Areas – Storerooms, staff rest areas, washing areas, and so on.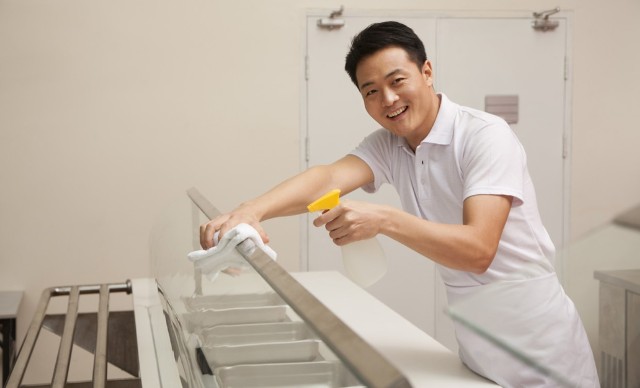 Must-have routine for Canteen Cleaning
Given the above work scope here are the routines/operations that a typical canteen must employ to meet acceptable hygiene standards –
Daily collection of all used crockery and cutlery returned by diners for washing. Daily wipe and clean all food plastic trays with approved disinfectant, to remove food remnants and grease. Wiping of tables and chairs with clean cloth and approved sanitiser after each removal of used crockery and cutlery
Trash bins must remain closed at all times to keep out pest and minimize unpleasant smell. The tray station/sinks must be kept neat and clean at all times. Additionally, floor/ mats, wall, sinks, shelving, trash bins, floor trap must be cleaned thoroughly and sanitized daily at end of canteen operations
Daily sweep and mop floor with approved detergent to remove grease, food bits and stains/ spillage. Weekly floor scrubbing with heavy duty scrubbing machine and approved chemicals to remove stubborn stains and grime. Floor must be mopped dry after wash.
Daily cleaning of staircases/ floor mats to remove dust, dirt and stains. Weekly cleaning of stainless-steel railings to remove dirt/ dust and stains
Daily clearing of trash and replacement of bin liners whenever bin is full. Daily wash and disinfect litter bins at end of canteen operating hours
Half-yearly or as-and-when required cleaning of wall fans, round columns/ struts and underside of canopy glass panel (if any) at dining area to be free of dust, stains and insect droppings
Monthly flush drains (between landscape and hard floors) to remove silt and algae
As and when removal of cobwebs, dust, and spillage etc found on walls, ceilings, and columns
Lastly, daily wash down of all toilets including cleaning of sanitary fittings. Daily morning touch up/ minor cleaning and replenishing of toilet consumables by opening hours and spot cleaning to maintain cleanliness throughout the day
Expected Outcomes
Under the Environmental Sanitation Programme for Food Courts and Canteens [licensed by Singapore Food Agency (SFA)], canteen owners/operators are expected to meet key outcomes such as –
Premises are clean and relatively free of visible litter, stain, environmental waste, spillage and soilage
Crockery and trays are promptly cleared from tables, tray return racks, and floor (if any, are placed) and
No significant vector issues within the premises at any time
Take your canteen cleaning seriously and should you need professional assistance do not hesitate to contact A1 Facility Services today!