If you own a pet, you know how fun and delightful it is to have one around. They give you comfort and can even make you laugh when times are tough. Having these cute, fluffy pets can be such a blessing – until you have to clean all the fur they shed around the house. It feels like you're fighting a never-ending battle with pet fur on your floors and furniture.
Although there is no way to completely get rid of it, here are a few ways to not only manage pet hair, but also make your cleaning a tad easier. Read on…
Start off with cleaning your floor
How to clean hardwood or tiled flooring
The ideal type of floor to deal with pet hair is hardwood or tile. Most would think that you can easily just sweep or vacuum your pet's hair. However, these methods can send hair flying around and would create even more work for you.
Alternatively, damp mopping on hardwood or tiled flooring is a good option, since it will catch the hair in place. Another option…use disposable wipes with a microfiber cloth and reuse it after you are done.
How to clean carpeted floors
This is the tough one….if your house has carpeted floor, you may want to start off with dusting some baking soda on your carpets. This helps loosen out the hair and make it easier to clean it later. You can then use a rubber broom or a dry rubber squeegee to clean up the pet hair on your carpet. Simply sweep the area in short, fast strokes and the pet hair will peel off from the carpet. You can then vacuum up the collected pet hair.
Want to know an unimaginable alternative to using a rubber broom or a rubber squeegee? is the bottom of a rubber soled shoe. Yes, the shoes work equally as well as the broom, and you can even put the shoe on your hand to remove the hair!
Finally, if you have the budget for it, invest in a robot vacuum. It will vacuum all day on command and give you a break from cleaning all that pet hair. The best part is it totally amuses the pets 😊
Next up is furniture
After you have finished cleaning your floors, it is time to clean your furniture. I would recommend cleaning your furniture after your floors as hair will just fly around and settle back on your furniture when cleaning your floors. It is best to sandwich cleaning your furniture in between 2 floor cleaning sessions. That may sound like e a lot of work, but it really works!
Dealing with pet hair on non-upholstery furniture
To deal with pet hair on hard furniture, such as wood or glass, use a slightly damped microfiber cloth to pick up the hair. Do remember to change your cloth after it has been filled up with hair, so that it does not re-deposit the hair all over the place.
Dealing with pet hair on upholstery furniture
To deal with pet hair on soft furniture with padded coverings, you can simply use a vacuum or a lint roller. However, I recommend using a damp sponge or rubber glove and rub the item along your furniture. It will pick the hair up easily.
If your pet has a favourite spot on a certain furniture, place a washable blanket over that spot. This way, you can easily remove it and throw it in the wash once it is dirty and full of hair. It is also good for when guests come over, and you need to clean your place urgently.
Cleaning air ducts and furnace filters
Lastly, pet owners, make sure to have your air ducts and filters cleaned regularly. Hair will settle there and can get re-circulated, leading to more hair to clean.
Reducing pet hair around the house by grooming
Now, if you dread all the labor suggested so far, then here's another way to lessen this workload… Cleaning and Grooming your pet. Some quick tips –
Start off by rushing your pet
Firstly, brush your pet. The more you brush your pet, the more pet hair you will be able to trap and dispose of before it falls all over your house. When brushing, try to do it outdoors so that the hair will fly around there and not inside your house. If you are brushing inside, lay your pet on a damp towel and brush there, so that the hair will get caught there.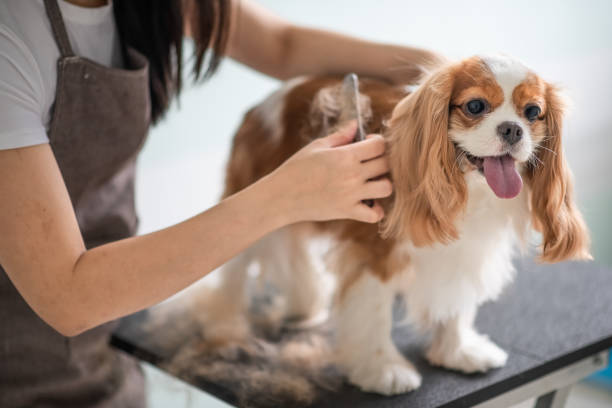 Or vacuum it
You can also consider vacuuming your pet. Some dogs actually like being vacuumed, especially if you introduce it to them at a young age. A good vacuum brand to use is Dyson. Dyson created an animal hair attachment called the Groom Tool, and you can vacuum and clean your pet with that – that is, if your pet allows you to.
Finish off with bathing your pet
Lastly, bathe your pets. Giving your pet a bathe regularly helps to loosen dead coat and makes it easier to brush it out. Bathing your dog monthly is the best. Here's a groomer's secret I came across: to get rid of all the shedding undercoat out, start with brushing the dog, then shampoo twice and use conditioner. Rinse well each time to get rid of clusters of hair. Then dry your dog and repeat the whole process again. May seem tiring but repeating the process will help to remove all the hair that you missed out the first time.
Of course, you can also take your dog to a professional groomer, especially during shedding season (spring and fall), and have them perform a special shedding treatment.
Wrapping it up
I hope these tips makes your cleaning routine easier and less messy. It will take effort and time to change your current cleaning routine, but believe me, you will definitely notice a big difference in the amount of pet hair you find around your house. And if its professional cleaning services that you are looking for, get in touch with our friendly staff.