Like most homeowners in Singapore we may have a full time live-in helper or would have hired a part-time maid to tidy up the house as and when needed.  However, as the cleaning services industry gets more organized and regulated there's a whole lot of professional cleaning services in Singapore that one can opt for.
Companies who offer cleaning services commercially do so not only for offices and commercial establishments but also for the residential segment.  Services hired from such agencies are structured differently as compared to hiring a cleaning aunty randomly.  And they also use a variety of cleaning techniques, equipment and aids to give you speedy and superior quality cleaning.
For those intending to engage such service providers in Singapore it's good to understand the differences and to know what to look out for.
How Commercial Cleaning Services differ from Home Cleaning?
Commercial Cleaning Services are better in the way they are organized and carried out as compared to the longstanding house cleaning services.  They will differ in the following areas –
Work Hours are not disrupted – Commercial cleaning is just the right option for companies who seek to have a sanitized and clean office environment without disrupting their work productivity. This is possible as service is rendered only during off peak hours (after office hours or lunch breaks) or on weekends so as not to disrupt office work.
Clear Contract is mandatory – There is always a contract involved so you can make sure that all your cleaning specifications are spelled out clearly in it. This way you can remain assured of consistent and quality services throughout the term of the contract.
Stricter Schedule – Commercial cleaning companies follow a stricter work schedule to ensure that the entire cleaning work is completed within the specified time frame without any hassles.
Professional Services – Work is done by a team of individuals who are pro at cleaning, sanitizing and who take initiative to make sure the cleaning requirements are fulfilled as per set standards and timeframe. Since you pay for a service and not for a person, you are not left stranded in case of absenteeism.
Range of Services – Since you deal with a company and not an individual there's multitude of other cleaning services that can be availed, if required. The scope of work can be extended beyond the general, internal and routine cleaning to cover external areas cleaning, periodic restroom sanitation, interior landscaping and so on. Carpet cleaning and steam cleaning can also be bundled from the same vendor.
Higher Cost – Professional services with service level agreements come at a higher cost of course. So, expect to pay more than what you would pay for a part time cleaner.
What You Should Look Out For When Hiring A Commercial Cleaning Company?
While you embark on your quest to hunt for the best commercial cleaning service provider here's list of points that you must consider before zeroing on the one that fits your requirement and bill too!
Company must be NEA licensed – In Singapore, look for a cleaning company that's licensed by the National Environment Agency (NEA). This ensures higher standards of cleaning and professional service by the company.
Look up for Client Testimonials – Read first-hand experiences of customers to gauge the company's performance. If the cleaning company has a reputed client base then it is a clear indication that it is trusted by a good number of customers. Check out their website for clientele and testimonials, read reviews on Social media, forums or on their business listing.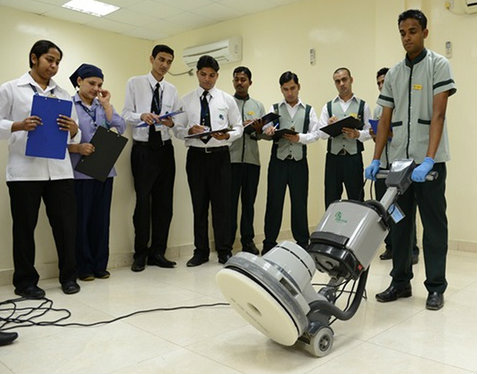 Trained Personnel – A commercial cleaning company should have emphasis skills training for their staff. If the company fails at this then it may lack a consistent standard of service.  Inquire with the company on their employee selection and training process. The staff must be diligent, friendly and experts in their work.
Scope of Services and Add-Ons they provide – Ask for capability to deliver other services like carpet cleaning, landscaping, pest control, etc. Some companies provide consumables like towels, soaps and can liners. If you're not required to stock these then it takes off unnecessary hassle off your hands.
Contract Terms & Exit Options – Before you sign the contract it is quite natural that you remain concerned about receiving a consistent performance from the company during the entire term of the contract. Therefore, negotiate fair terms and also for an agreement where you can terminate the contract in case you are not satisfied with their services.
Whether you are a concerned homemaker or a business owner it's good to know the benefits of engaging a commercial cleaning company.  A1 Cleaning Services is one company you may want to consider due to the range of services and trained cleaners they provide. With a professional team and affordable pricing this may just be the right option for you.