Post Renovation Cleaning Services
Homeowners anxiously await to move into their new home once the renovation work has ended.  After weeks and months of waiting to do up your home sweet home, you certainly would not wish to wait any longer to move in and enjoy the fruits of the time, effort and money spent.  But as much as you'd wish to settle in quickly, an often overlooked chore is that of a thorough cleanup that's needed after a renovation.
The Need to Cleanse After the Overhaul of Your Space
True, your contractor may have included a general cleaning of your home after the revamp.  But no matter how well your renovation workers cleaned up; the dust, dried cement, water marks, etc. does not get removed very easily.  Excess dust is harmful to your health and general well-being, especially for individuals allergic to dust.  Whether you have undertaken a full house renovation or a partial one, the dust, mess and debris amount to the same.  Hence, a thorough cleaning is an absolute necessity.
After renovation works as you get busy with organizing and settling in your newly groomed abode, let our team at A1 Cleaning Services help you quickly get your space into a livable condition, so you can enjoy your new home as intended.
Post Renovation Cleaning Process
Tidying up after a revamp of your premises is not the same as your usual cleaning session.  A top-down approach is needed here, starting from the ceiling and then focusing on all items along the way down to the floor.  Here's a comprehensive list of items/areas that should be covered –
For All Rooms
Clean windows and grilles, interior only
Clean doors and gates
Dust all surfaces
Sweep balcony (if any)
Vacuum all floor areas
Mop all floor areas
Clean exterior of installed wardrobes and closets
Clean fans (if any)
Clean exterior of light fittings
Clean glass surfaces including mirrors, doors, etc
For Kitchen
Clean kitchen wall tiles and backsplash
Clean exterior and interior of cabinets (if empty)
Clean kitchen area including stove & hob, sink, countertops & fittings
Wash and disinfect kitchen sink and basin
For Bathrooms
Clean bathroom wall tiles
Clean and disinfect floor, basin, toilet bowl & fixtures and fittings
Clean glass surfaces including mirrors, doors, shower screens
Others
Disposal of debris and trash
Other related chores
When to Have a Post Renovation Service
After your renovation, you want to move in to a fresh, clean home.  So, it's preferable to have a post renovation clean-up immediately after the renovation and before your furniture or new appliances arrive.  Bulky items can hinder the effectiveness of a good scrub down.  Take special consideration that since this is not an ordinary cleaning task, an entire day should be dedicated to get your home ready for moving in.
Give A1 Cleaning Services a call to arrange for an appropriate date and time.  Our team of professionals guarantee to meticulously clean and let you enjoy your dream home.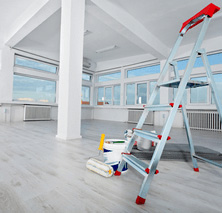 Always happy use service from A1 Facility service,i highly recommended
Never dissapointed with A1 service since first time i use their service last year.
Great service always make my apartemen clean, never dissapointed after 1 year use A1 Service. Highly recommended 🙂
Great service highly recommended
When I first signed up with you, I was sceptical, and expected to have some "glitches", but I was surprised that everything just went on smoothly. I am really pleased with the excellent dishwashing work and appreciate the extra effort in making this turns out to be a great experience for us.
I have hired your competition in the past and never have they did an excellent dishwashing job like your company. I just found a company that can cater to my needs, requirements, and my budget. Superb.
We love our dishwashing crew! The team did another great job and were victorious once again over the dirt from the food stains. They even got the fridge to look white and even fix the plumbing. Something we find difficult to do. As always, I enjoy their cheerful personalities. They are a pleasure.
Pedro Chaniago
2022-08-08
I just wanted to call you and let you know I was really appreciating your dishwashing team today. We had somewhat of a "crappy" day, lots of new staffs coming in, poor management by the new operation manager. Thank you to your team for being so patient with us.
Thanks for the calibre of the workers and the quality of their dishwashing work. It is a tribute to the worker's character and to the quality commitment of management in hiring. Other than the quality of the work, their customer service is very responsive and professional. Needed extra back up next day, they solved my issue within a day.
Travis is professional and courteous, and bent over backwards to accommodate our schedule. He is prompt in returning phone calls even at wee hours, and the dishwashing team was always on time and efficient. To be honest, I feel bad calling him at late night due to the bar late operating hours, but he is so understanding. 5 stars service.
Life Is Short….Don't Stress, Let Us Clean Your Mess
Get quality time in clean surroundings, relieve the scrubbing & rubbing to us!