Living in fast paced Singapore, people are always strapped for time and an extra pair of hands is always appreciated.  To meet the demands and maintain a desired lifestyle, certain aspects of our everyday life often gets neglected, among which is house chores.  Most of us are guilty of pushing housework to be tackled over the weekend.  This can get frustrating over time as precious weekend hours are wasted away doing mundane tasks.
Let A1 Cleaning Services be your extra pair of hands.  We are the professionals when it comes to cleaning services.  Be it a small apartment or a sprawling bungalow, a start-up office or an MNC, our team of dedicated workers will keep your living and work space sparkling clean.  Cast away your frustrations and look forward to a relaxed atmosphere right at your doorstep.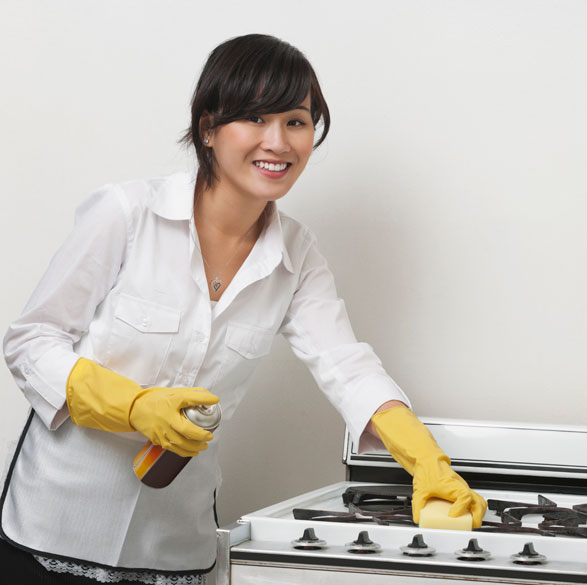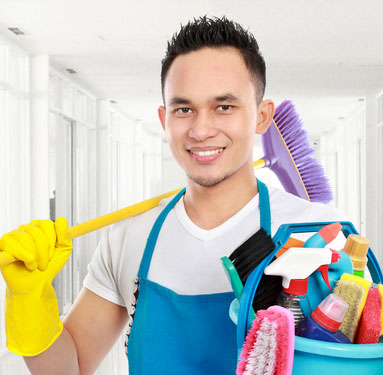 Why Hire Part Time Cleaner
If the decision of getting help has been made, it is now time to contemplate between hiring a part time or full time cleaner.  Here's a list of pros and cons of hiring part time vs full time help which will aid you in making the right choice
Pros
Committed to cleaning as this is their job and they are professionals at it
No time wastage.  House is cleaned according to package taken. Flexibility to engage cleaning service on a needs basis
Local or PRs who know the way of living in Singapore.  No culture shock or adjustment difficulties.  Familiar with appliances used
Flexible timings and dates according to clients preference
Flexibility to change helper if dissatisfied
No burden when travelling.   Just call to make another cleaning appointment upon return
Privacy is not compromised
No hassle of cleaners' medical, visa, food and lodging, etc. issues
No language / communication barrier
No legal obligations
Cons
Lack of trust to leave the house unattended
May not be available during emergencies
May turn out expensive if amount of work is significant and required on a daily basis
Pros
Available 24/7
Beneficial for caring of young children or elderly parents
Able to have couple time while helper babysits
Cons
May not be a chosen career path but more out of compulsion
New maids may not have prior experience and would need training
Language and culture barriers
Fear of child or elderly abuse
Have to fork out substantial hiring costs upfront – agency fees, maid's loan and insurance
On-going overheads besides salary such as levy, doctor visits, utilities, misc monthly expenses, etc
Make living arrangements for helper
Stress of maid transferring out and rehiring process
As implied from the comparison table, the benefits on hiring part time assistance far outweigh the drawbacks.
In commercial establishments and corporate offices, a part time cleaner can be hired to clean the premises when the staff are out on lunch break.  Getting professional help to do the vacuuming, emptying out of individual trash, washing mugs and plates and keeping the pantry area clean can save employee productive time.
A1 Cleaning Services is just a phone call away in providing you with a suitable part time helper, leaving you liberated to attend to more important matters.  Make that choice and call us now
Always happy use service from A1 Facility service,i highly recommended
Never dissapointed with A1 service since first time i use their service last year.
Great service always make my apartemen clean, never dissapointed after 1 year use A1 Service. Highly recommended 🙂
Great service highly recommended
When I first signed up with you, I was sceptical, and expected to have some "glitches", but I was surprised that everything just went on smoothly. I am really pleased with the excellent dishwashing work and appreciate the extra effort in making this turns out to be a great experience for us.
I have hired your competition in the past and never have they did an excellent dishwashing job like your company. I just found a company that can cater to my needs, requirements, and my budget. Superb.
We love our dishwashing crew! The team did another great job and were victorious once again over the dirt from the food stains. They even got the fridge to look white and even fix the plumbing. Something we find difficult to do. As always, I enjoy their cheerful personalities. They are a pleasure.
Pedro Chaniago
2022-08-08
I just wanted to call you and let you know I was really appreciating your dishwashing team today. We had somewhat of a "crappy" day, lots of new staffs coming in, poor management by the new operation manager. Thank you to your team for being so patient with us.
Thanks for the calibre of the workers and the quality of their dishwashing work. It is a tribute to the worker's character and to the quality commitment of management in hiring. Other than the quality of the work, their customer service is very responsive and professional. Needed extra back up next day, they solved my issue within a day.
Travis is professional and courteous, and bent over backwards to accommodate our schedule. He is prompt in returning phone calls even at wee hours, and the dishwashing team was always on time and efficient. To be honest, I feel bad calling him at late night due to the bar late operating hours, but he is so understanding. 5 stars service.
Life Is Short….Don't Stress, Let Us Clean Your Mess
Get quality time in clean surroundings, relieve the scrubbing & rubbing to us!