The Home and the Office are 2 of the most frequented places one spends time in. Keeping the premises clean and air quality pure and germs free is important. While a cleaning regime would be in place, at times, just simple cleaning alone is not enough. That's where disinfectant cleaning is required.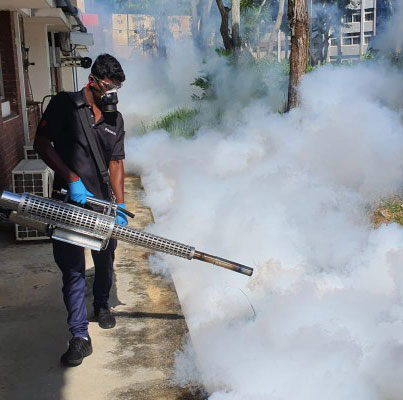 Disinfection Service Singapore
Disinfection is primarily done to eliminate or reduce germs, microbes and bacteria so as to prevent transmission of diseases and illnesses. And sanitize the space where we work and live.
The type of disinfection service depends on several factors. The underlying reason to disinfect, the type of infection one is trying to fight/prevent and whether it is for a commercial or residential building.
In times of a viral outbreak, like SARS and the recent COVID-19, disinfecting the workplace and home may need to be done on an ad hoc or urgent basis. However, for certain industries it quite a norm for example hospitals, schools and laboratories are some places where disinfection is frequently carried out.
Singapore's humidity also happens to be a breeding ground for pests. Common pests include rats, cockroaches, ants and flies. These pests may carry bacteria which can be harmful to humans. Besides, an infestation of pests can be a nuisance.
Typical Work Scope for Disinfection
If you have decided to engage professionals for your office or home disinfection, a site visit needs to be carried out to gauge the volume of work (number of floors, area in square feet, etc). Once engaged, a Disinfection service will cover the following –
All surfaces (desks, shelves, exterior of cupboards, etc) are thoroughly cleaned and wiped with disinfectant liquid
Item that are frequently touched e.g. doorknobs and handles, tables, chairs, lift buttons and railings, light switches etc. are identified and sanitized
Sweeping & steam mopping of tiled floor
Steam vacuuming of carpeted floor
Disposal of Trash, wiping of bins
Washing of toilets, skins, accessories & fixtures
The use the elaborate equipment and cleaning products (strong disinfectant with active ingredients) are key to a proper sanitization service. Chemicals should be safe for homes with children.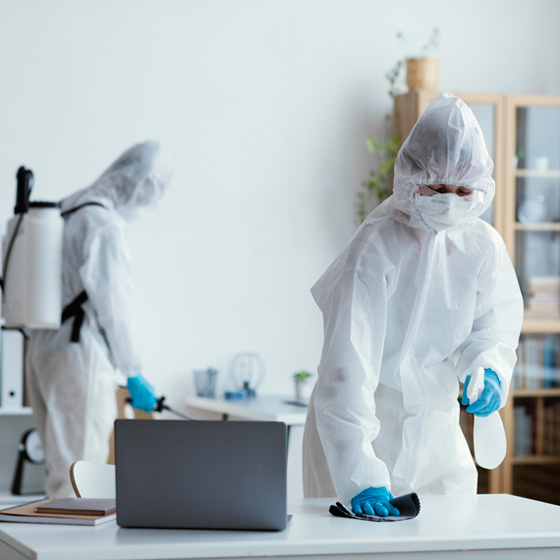 Method Used for Disinfecting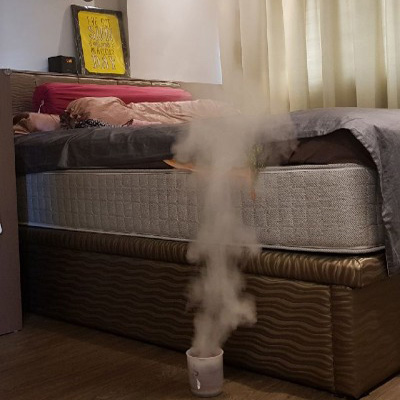 Contrary to popular belief, disinfecting is not a difficult task, but it can be time consuming.  At the workplace where there is a plethora of items that are frequently touched and common areas utilized, calling professionals to do the cleaning and disinfecting would be a better option.
Methods used for disinfecting are as follows:
Wiping down with a disinfectant. All items and surfaces are given a thorough wipe down.
ULV Misting or Fogging. A thin mist of chemical is sprayed to eliminate viruses and germs in exposed areas.
Steaming is most effective on soft furnishings such as carpets, sofas and mattresses. Since these surfaces cannot be wiped down, steaming is a conducive way of disinfecting.
Protect and Prevent the Spread of Infection
Whether it is the common Flu or the very threatening Corona Virus, protecting oneself from viruses and infectious diseases should be top priority. In the unfortunate event that you have been infected, the next step is to prevent the spread of the virus. Constant cleaning and disinfecting of oneself and the surroundings will nip the virus in the bud.
A1 Facility Services Advantage
A1 Facility Services has the right tools, product and manpower to do the job for you. We are competent in tasks such as ULV Misting and Deep Cleaning. With trained cleaners ready to work round the clock, you know you are in good hands. Call us now for a FREE Quote.
Always happy use service from A1 Facility service,i highly recommended
Never dissapointed with A1 service since first time i use their service last year.
Great service always make my apartemen clean, never dissapointed after 1 year use A1 Service. Highly recommended 🙂
Great service highly recommended
When I first signed up with you, I was sceptical, and expected to have some "glitches", but I was surprised that everything just went on smoothly. I am really pleased with the excellent dishwashing work and appreciate the extra effort in making this turns out to be a great experience for us.
I have hired your competition in the past and never have they did an excellent dishwashing job like your company. I just found a company that can cater to my needs, requirements, and my budget. Superb.
We love our dishwashing crew! The team did another great job and were victorious once again over the dirt from the food stains. They even got the fridge to look white and even fix the plumbing. Something we find difficult to do. As always, I enjoy their cheerful personalities. They are a pleasure.
Pedro Chaniago
2022-08-08
I just wanted to call you and let you know I was really appreciating your dishwashing team today. We had somewhat of a "crappy" day, lots of new staffs coming in, poor management by the new operation manager. Thank you to your team for being so patient with us.
Thanks for the calibre of the workers and the quality of their dishwashing work. It is a tribute to the worker's character and to the quality commitment of management in hiring. Other than the quality of the work, their customer service is very responsive and professional. Needed extra back up next day, they solved my issue within a day.
Travis is professional and courteous, and bent over backwards to accommodate our schedule. He is prompt in returning phone calls even at wee hours, and the dishwashing team was always on time and efficient. To be honest, I feel bad calling him at late night due to the bar late operating hours, but he is so understanding. 5 stars service.
Life Is Short….Don't Stress, Let Us Clean Your Mess
Get quality time in clean surroundings, relieve the scrubbing & rubbing to us!